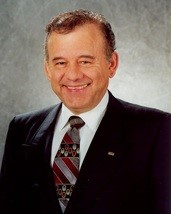 Mr. H. Frank Dominguez was just 25 years old when he founded the Vanir Group of Companies in San Bernardino, California. The Vanir companies have played a vital role in the construction, construction management, and real estate development industries. Over the years, the Vanir group's success has spread far and wide. The group has gone national and international, with 15 active offices spread across seven states in the US and international offices in Saudi Arabia and Dubai.
Mr. Dominguez was hailed as a community leader as well as a successful businessman. He was once picked as the Hispanic Businessman of the Year by the US Hispanic Chamber of Commerce. The Governor of California appointed him to the state's Commission for Economic Development. He served on many committees and advisory councils when asked to by multiple former Presidents of the United States. He sat on the Board of the Mexican American Legal Defense and Education Fund (MALDEF) for two full terms. He was also a principal founder of the New America Alliance, serving on its inaugural Board and helping shape its guiding philosophies. This organization devoted to philanthropy and positive economic development is primarily (though not exclusively) composed of Latino business leaders.
Mr. Dominguez always believed that the needs of the community were intimately intertwined with those of business. He felt it was a wise investment to help grow those communities where Vanir created projects and where the Vanir Group's employees lived and worked. His personal focus was often on helping underprivileged youth and schools in disadvantaged communities, and he provided copious amounts of financial support, professional assistance, and scholarship funding.
H. Frank Dominguez was posthumously honored by the New America Alliance (NAA) in 2004. The Founding Board Member was awarded a Lifetime Achievement Award in Philanthropy from the Alliance. Furthermore, the Alliance renamed their annual philanthropy award in his honor.
Many different organizations and publications have recognized the tremendous positive impact Mr. Dominguez had through his lifelong commitment to philanthropic activity and community building. Notable and influential figures have joined in with the general acclaim offered to Mr. Dominguez in the past. Notable supporters include George W. Bush, former President of the United States, Cruz M. Bustamante, former California Lieutenant Governor. Mr. Dominguez's good work was also formally recognized by a resolution passed by the Board of Supervisors of Los Angeles County.
In gratitude for all of his work, Mr. Dominguez's daughter Dorene C. Dominguez founded the Vanir Foundation in 2004 to carry on his work. The Foundation's goals include raising educational standards for disadvantaged children by providing educational programs, food assistance, and uniforms to children that need them.
Prior to his death on January 8, 2004, Mr. Dominguez made positive changes in countless different lives. He left behind a family, a company, and a community that were all better for his presence, and the Vanir Foundation will be an ongoing tribute to everything he was able to accomplish.